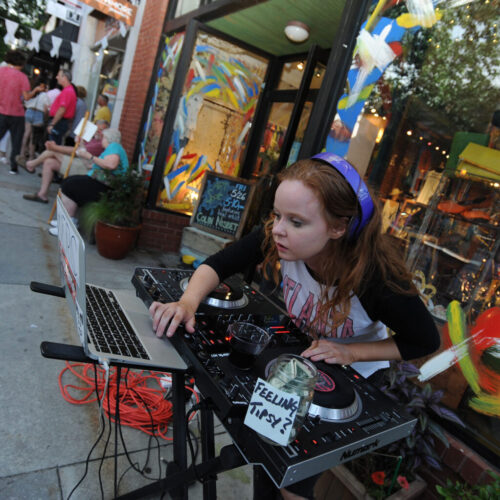 Friday, May 5, 6-10 pm
All around Decatur | Free
City-wide Art Experience
Kick off the Decatur Arts Festival weekend with ArtWalk, a single-night, city-wide art experience that is free and open to the public. Stroll around downtown Decatur enjoying light refreshments and delightful artwork at ArtSpots, exhibits hosted at local galleries, retailers, and restaurants.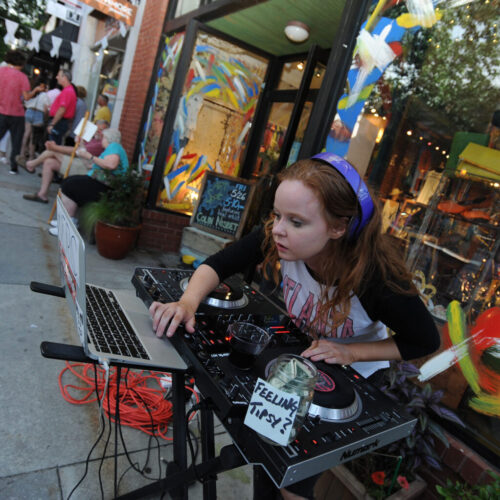 Core Dance will screen all five of this season's REEL Art Dance on Film Commissions from 6-10 pm. Commissioned artists include Amador Artiga (CZ/SP), Michael Eckblad (US), Valerie Massadian (France), Loren McFalls (US) and Lori Teague (US).
Core Dance creates, performs, and produces compelling original movement based art that empowers communities to see the self in others. Internationally acclaimed, Core Dance was co-founded by dancer and choreographer Sue Schroeder and her sister, Kathy Russell in 1980 and opened our Decatur location in 1985.
Location: 133 Sycamore St., Decatur GA 30030
Longtime gallerist Shawn Vinson returns to Decatur to reopen Different Trains Gallery with a 3 day pop-up show celebrating 25 years since he opened Vinson Gallery on the Square. The exhibition will include new works by Ruth Franklin, along with gallery artists Harry Underwood, Kosmo Vinyl, Chris Pig, and others. The gallery will be open Friday: 6-10pm, Saturday: 11am-5pm and Sunday: noon-4pm, during the Decatur Arts Festival.
Different Trains Gallery is located in Decatur's Old Depot District. Director Shawn Vinson curates quarterly pop-up exhibitions and the gallery is open by appointment between events. Vinson offers contemporary and outsider art by local and internationally recognized artists, and personalized, professional art consulting services for private and corporate clients.
Location: 432 E Howard Ave #24 Decatur, GA 30030
The Fine Arts Exhibition is on display in the newly renovated 4th floor gallery of the Decatur Library. The gallery will have extended hours during ArtWalk, Friday, May 5 and will be open 6:30-9:30. Enter through the parking lot doors and take the elevator on the right to the fourth floor! Find out more about the exhibit here.
Location: 215 Sycamore St, Decatur, GA 30030
Dana Harrison runs Atlanta-based Humble Craft Co., and specializes in creating hand-crafted jewelry and gifts. She also designs custom chalk signs for restaurants and events! Come by Farm Burger to see her process of creation and take some unique pieces home with you!
In 2008 Farm Burger cofounders Jason Mann, an organic farmer & rancher, and George Frangos, a hospitality veteran, attempted to answer that question with a single idea: redefine the burger by bringing together a community of ranchers, farmers, chefs, restaurateurs, and eaters. The restaurant depends on local farmers, ranchers, and land stewards.
Tim Lee of Rabbit Run Studios lives and works in Atlanta Georgia. Part painter, part maker, Tim has been a professional artist his entire adult life. He makes oil paintings, digital paintings and screen prints. His diverse work always has a story to tell about a magical place or moment in time, it might be a rabbit, a banjo player or even a robot, but the common thread is a feeling of mystery and nostalgia.
HomeGrown Decatur is where the irreverent meets the sublime. We sell the work of 100+ local and regional artists and makers. Wall art, handcrafted pottery, small batch soap, candles and local foods plus jewelry, handbags and leather goods. Unique goods and clever gifts.
Location: 412 Church St., Decatur, GA 30030
The walls of Little Shop of Stories feature the artwork of some of the most popular and award winning illustrators in children's literature! Bring by the family during ArtWalk to check out all the original artwork and to participate in an art wall scavenger hunt!
Little Shop of Stories is a nationally recognized, award-winning, independent children's bookstore located on the Decatur Square. They have books for grown ups, too!
Location: 133 East Court Square, Decatur, GA 30030
Decatur local, Talia Hirsh, will be showcasing her handmade ceramics: mugs, bowls, dishes, vases, etc. Ask her about the process and inspiration for her one-of-a-kind pieces.
Sq/Ft is a quirky gift shop. Left of center, but right on the Square!
Location: 149 Sycamore St., Decatur, GA 30030
Graphic artist Sophie Latz will create live projected art during the event!
Squash Blossom boutique is a treasure trove of unique, artistic, but wearable clothing, shoes and accessories for those who want to look beautiful while making it look easy.
Location: 113 East Court Sq., Decatur, GA 30030
Stop by during the ArtWalk to watch live painting in the traditional Chinese brush style.
Takumi Cuisine is Decatur's newest restaurant specializing in classic Japanese cuisine, sushi and sashimi. Shabu Shabu, Sukiyaki, Omakase by reservation.
Alexander Bevin Ross Design & Forge showcase of the artist's current collection of entertaining etagere pieces; featured pieces include pedestal, two-tier and three-tier works.
Vivid Boutique of Decatur offers a meticulously procured and exquisitely presented collection of treasures- jewelry, handcrafted art and and classic and elegant decor. Chic Aprons, French Soaps, Scented Candles, Baby Gifts and Accessories, Vegan Handbags and Linen Stationery.
Visit the whimsical and colorful art gallery and artisan gift boutique during the ArtWalk to see various artists showcasing their diverse crafts! TacoCat (Sculpture), Anne Swain (Jewelry Making), Wendy Bradley (Painting), and more.
Wild Oats & Billy Goats is a whimsical and colorful art gallery and artisan boutique offering paintings, sculpture, pottery, jewelry, candles, and body products, as well as fabric, metal, wood, and paper art created by local and regional artists. The gallery was founded in 2010 on the square in Decatur.
Join Worthmore Jewelers to help us celebrate 16 years on the Square in Decatur. This will be a great night of wearable art jewelry and the official opening of Callicutt + Callicutt, a father/daughter art show, featuring works by Jonathan and Emma Callicutt.
Emma has grown up in a house filled with creativity from live music to visual arts. This is her first public showing and your chance to meet a true up and coming talent.
Worthmore Jewelers is a locally owned family store that will be celebrating the 14th anniversary being in Decatur and part of the community. Full service, offering custom design, jewelry and watch repairs and featuring local artists.
Location: 117 E Court Square, Decatur, GA 30030
MettaSpin is a DJ & Producer on a mission to spread love through music, one spin at a time! She has held several residencies around the Atlanta scene including the Clermont Lounge and Star Community Bar. Hear her on the square from 7-9 pm.