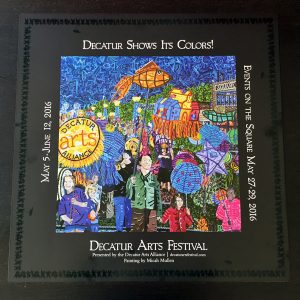 The Decatur Arts Festival commissioned the 2016 poster artwork from Micah Mullen, a painter based in Raleigh, NC. Micah's paintings focus on landscapes both urban and wild, built and natural, each view energized with his signature patterns that dance through sky, treetops, waterfalls, and building facades.
Micah's booth at the Artists Market in 2015 generated some buzz within the local arts community.
"We're such big fans of Micah's work, and we wanted to see what he could do with Decatur's Community Lantern Parade as a subject," says Angie Macon, executive director of the Decatur Arts Alliance. "We could not be more delighted with the outcome and the way he captured the energy and excitement of this magical event that means so much to our Decatur family."
About the poster artwork Micah says, "The vivid colors and wild shapes found in the Decatur lantern parade worked perfectly with my style of painting. The geometric patterns and dark blues seen in the sky allow the lanterns and people to pop off the canvas, a beautiful snapshot in time of a happy moment in Decatur. My intention for this painting is to evoke only positive emotions. I feel the smiling people, bright colors and unique patterns achieve this intent."
Micah holds a bachelor's degree from SUNY Brockport and a master's degree from Duquesne University. The son of a college art professor, Micah came into his own as an artist after working for an art supply company where he became the marketing director.
"Between time spent in my father's studio and my professional career I learned countless things about art theories, techniques, principles and practices," says Micah. My never-ending passion is to put these ideas onto canvas."
Visit micahmullen.com to find out more.
2017 Poster Unveiling
The 2017 poster unveiling will take place May 4 at the community bandstand in downtown Decatur.
Poster Unveiling Committee: Faye Sykes, Mari Atwell, Tonya Burkett, Mitzi Hill, Julie Rhame
Take the Poster Home with You!
Visit the Information Tent on the MARTA plaza during the Artists Market and check out the T-shirt selection and poster with this year's artwork.