Join us on Thursday, May 10, 5:30-7:30 pm for the unveiling of the 2018 Decatur Arts Festival Poster. It's free!
Be among the first to see this year's Arts Festival poster, take home a copy, and enjoy an artsy springtime party with drinks, refreshments, and live music.
Last Year's Artists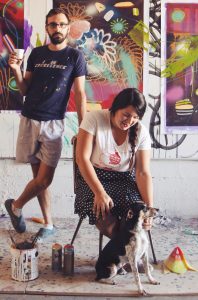 The MILAGROS Collective, consisting of Felici Asteinza from San Pedro Sula, Honduras, and Joey Fillastre from Lakeland, Florida, was selected to paint Decatur's newest MARTA Overpass Mural.
Felici and Joey have extensive mural experience, including a Public Art Commission for the New Orleans Public Library (right); 2015 Murals in Greensboro, North Carolina, hosted by the Elsewhere museum and funded by ArtPlace America; an Art in Public Places mural on the Yates Parking Garage in Jacksonville, Florida (below right); and others.
What sets the MILAGROS Collective apart, according to Angie Macon, director of the Decatur Arts Alliance, is their extensive community engagement experience in creating their murals and other pieces. Angie says they have a commitment to and an excitement for the community engagement process around their projects.
Check out their work here.