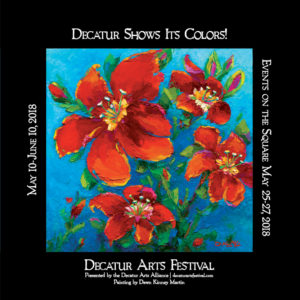 The Decatur Arts Festival commissioned this year's poster artwork from Dawn Kinney Martin.
"Color is the driving passion behind my art. I love that I am constantly learning! I enjoy studying color and using it to create the sense of a three-dimensional scene on a two-dimensional surface. It absolutely fascinates me. In recent years, I've added a new dimension to that passion through plein air painting.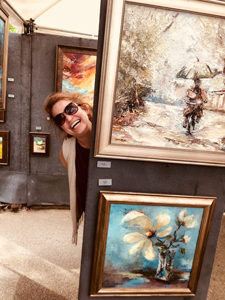 "Painting plein air is a welcome challenge. It is exhilarating to be in tandem with nature, to venture out with my paints and see the beauty the natural world has to offer, to race the clock as I seek to capture light and wind in a continually changing landscape. Light and color in nature are alive and changing. I still enjoy studio painting, relying on memory, imagination, as well as thick applications of oil paint with palette knives to convey a sense of movement. Painting on location adds to my ongoing discovery of new possibilities, to impart a sense of time and space onto a two-dimensional plane.
"Life is so busy, we forget to pay attention to the world around us. Through my paintings, I strive to elevate the ordinary and encourage the viewer to notice the moments of beauty in the day to day."
Check out her work here.
Poster Unveiling
Thanks to everyone who came out for the unveiling party May 10, 5:30-7:30 pm at the Solarium. And thank you to Swagalicious for artsy springtime decorations, to Three Taverns, Arches Brewing, Steady Hand Brewing, Decatur Package Store, Bennett's Market and Deli, and Gigi's Treats for drinks and refreshments, and to Jimmy Galloway for live music.
Poster Unveiling Committee: Faye Sykes, Mari Atwell, Tonya Burkett, Mitzi Hill, Julie Rhame