Galina Herndon, 2013 Poster Artist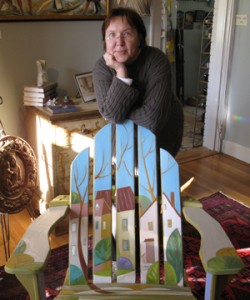 This year's Arts Festival poster features a painting by Galina Herndon of Roswell, Georgia. Born and raised in the Ural Mountains of Russia, Galina began oil painting in 1999, following in the footsteps of her artistic parents and grandparents. She worked for 14 years producing technical illustrations from the digging sites on various archaeology expeditions across the former Soviet Union.
After creating technical work for so long, Galina enjoys creating curves in her drawings of cityscapes and landscapes. She uses warm colors in her paintings because she wants to convey a sense of happiness to contrast the cold of Russia and the rigid political landscape in which she was raised. Galina has an art studio at Elegant Attic in historic Roswell, where her art is showcased.
Poster Unveiling
The poster unveiling took place May 2 at the Community Bandstand on the square in downtown Decatur. Thanks to these sponsors for donating goods and services for the unveiling event:
• DeKalb History Center
• A Quick Fix, catering
• General Wholesale Beverage, beer
• Cupcake Vineyards, wine
• Jimmy Galloway, musician
Take the Poster Home with You!
Visit the Information Tent on the MARTA plaza during the Artists Market and check out the T-shirt selection and poster with this year's artwork.
Poster Unveiling Committee: Faye Sykes, Mitzi Hill, Mari Atwell, Tonya Burkett