Saturday, May 25, 10 am-6 pm | Sunday, May 26, 1-5 pm
Presented by Beacon Dance & CORE and Decatur Active Living
2019 line up to be announced in early May. Check out the 2018 dance below.
Breaking New Ground: New Dance at the Decatur Arts Festival is in multiple venues again this year, including Core Studios on the Square at 139 Sycamore St., the Decatur Recreation Center at 231 Sycamore St., and Breen's Alley, between 133 Sycamore and 139 Sycamore. Programming includes learning opportunities in addition to entertaining and thought-provoking performances.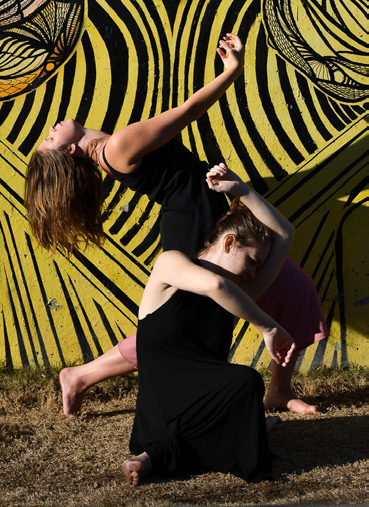 Dance Events
Flamenco Youth Performance
Saturday, May 26 | 10 am
Decatur Recreation Center, 231 Sycamore St..
Fiesta flamenquita en Café Olé
The morning starts with a little ruckus at the Decatur Arts Festival when 20 mighty Flamenco dancers bring the Spanish art form that they love to the Children's Arts Festival. Performers aged 5-16 will showcase Flamenco songs and dances that they have studied in Decatur, including at Glennwood Elementary. This show is by kids for kids, and families are encouraged to gather around to capture some inspiration and to cheer "Olé!" as they clap and stomp and twirl.
Dance on Film Under the Stars
Saturday, May 26, 9-11 pm, Breen's Alley
(between Core Dance offices and Core Dance Studios) | Decatur Square
The Dance on Film performance consists of eight dance films in a program that repeats once. Most works are five to six minutes, and feature local and international artists. Pull up a seat under the stars and watch one, two or all dances on film.
Performances
Saturday, May 26, 4-5 pm and 
Sunday, May 27, 4-5 pm
Decatur Recreation Center Dance Studio | 231 Sycamore St.
Both performances feature the same program, including the following works:
1-2-3-4-5, choreography by Julie Baggenstoss (10 minutes)
You Gotta Move, choreography by the Dancing Flowers for Peace (7 minutes)
To Live, choreography by Alex Spitzer (5 minutes)
moonstruck, choreography by Amanda Sieradzki (10 minutes)
Jump/Rope, choreography by D. Patton White (15 minutes)
Classes
Decatur Recreation Center Dance Studio | 231 Sycamore St.
Flamenco & Sevillanas with Julie Baggenstoss

Saturday, May 26, 11 -11:45 am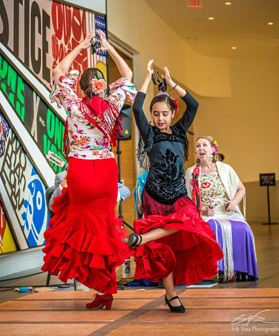 Study basic Flamenco technique for the upper body, including arm and hand work, while learning the popular dance "sevillanas." This is the festive regional dance and song that people of all ages and abilities participate in at fairs, festivals, and celebrations in southern Spain. It's a one-minute dance for couples, but anyone can attend as a single and find a partner in the class. Men and women, boys and girls are welcome to laugh and smile with us as we move in this typical fiesta style of Andalucía.
InterPlay: movement, storytelling, voice and community connection!
Saturday, May 26, noon-12:45 pm
The simple forms of InterPlay invite participants of all ages and abilities to free the stories, movement and voice within. It is taught in an incremental and affirming environment where the unique creative expression of each individual is honored and celebrated. InterPlay invites creativity and connection (with oneself and others) in a joyful and accessible atmosphere.
interplay.org
Dance and Diversity with Alex Spitzer
Saturday, May 26, 1-1:45 pm
A modern dance class in which students will learn a small combination and develop a small improvisations. Then after learning the combination, instructors will give each student a limitation to see how they would still perform the combination and improvisation. And finally, do the combination and improvisation again without the limitation and see the differences.
Flower Power with the Dancing Flowers for Peace
Saturday, May 26, 2-2:45 pm
Flowers are given, planted and received for almost every occasion of our lives. This workshop explores the moods and sentiments we can imagine and articulate. What is the body saying when we want to transform self and others: Meet hate with dignity and anger with love.
Swing and Salsa with D. Patton White
Sunday, May 27, 1-2 pm
Come learn the basics of six-count east coast swing and the salsa in this class geared towards all levels. If you know a bit of swing or salsa, you can add to your repertoire of moves. No partner is necessary. Everyone will have a chance to dance with someone else.
Traditional African Dance from Ivory Coast with Samba
Sunday, May 27, 2:30-3:30 pm
Samba will bring you the traditional Ivory Coast dance from a chosen tribe. This class includes a short history of the people, their culture and the reason we celebrate through dance.