Saturday, May 26, 10 am-6 pm | Sunday, May 27, 1-5 pm
Presented by Beacon Dance & CORE and Decatur Active Living
New Dance: Breaking Ground continues to expand each year. Programming includes film screenings, thought provoking performances, and learning experiences in the exploration of movement and dance.
2017 Dance Events

Walk: A Site Specific Performance by CORE Dance
Saturday, May 20 | 8:30 pm
Decatur square, adjacent to 139 Sycamore St.
"Sharing space. Walking in relation. The soul that sees beauty may sometimes walk alone." —Johann Wolfgang von Goethe.
The artists of CORE Performance Company, under the artistic direction of Sue Schroeder and in tandem with the community, create a performance work in and around the Labyrinth. Walk contemplates the changing nature of the individual within our briskly changing world with the Labyrinth offering the sacred space for this community experience. Artistic collaborators include Chantelle Rytter (lantern design and creations for the labyrinth), Jay Staley (labyrinth design and construction), Chip Epsten and Grady Cousins (live music score and composition).
Film and Performance
EnCORE Dance on Film Festival
Friday, May 26, 5-10 pm | CORE Studios, 139 Sycamore St.
A social gathering for the arts and celebration of Dance made for the Silver Screen co-presented by Core Dance. EnCore brings together a collection of original dance works for screen from around the world. Doors open at 4:45 pm. The program will last approximately 90 minutes and will repeat two times throughout the evening. First screening begins at 5 pm and will be ongoing throughout the Decatur ArtWalk until 10 pm. Be our guest. Grab a chair and enjoy watching what our local filmmakers and international counterparts are creating.
Dance on Film on the Square
Saturday, May 27, 9-11 pm, Breen's Alley
(between Core Dance offices and Core Dance Studios) | Decatur Square
The Dance for Film performance will consist of eight dance films in a program that repeats once. Most works are 5 to 6 minutes, and feature local and international artists. Pull up a seat under the stars and watch one, two or all of the films.
Performances
Saturday, May 27, 4-6 pm and 
Sunday, May 28, 3-5 pm
Decatur Recreation Center Dance Studio | 231 Sycamore St.
Both performances feature the same program, including the following works:
Tribute (excerpt), choreography by D. Patton White (20 minutes)
Stop in the Name of Love, choreography by the Dancing Flowers for Peace (7 minutes)
Suitcase of Memories, choreography by Alex Spitzer (5 minutes)
The Social Justice Dance, choreography by the SoulPrint Players (10 minutes)
Effusion, choreography by Heidi Baila (6 minutes)
Works on Paper, part II, choreography by D. Patton White (10 minutes)
Classes
Decatur Recreation Center Dance Studio | 231 Sycamore St.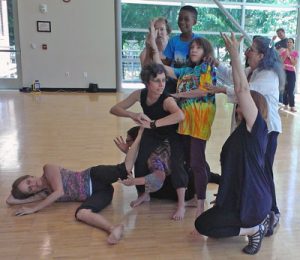 Awareness Through Movement

Saturday, May 27, 10-11 am

A one-hour class in the Feldenkrais Method, with Louise Runyon. Ingenious, gentle movement sequences designed to bring mobility, ease and efficiency to all forms of physical activity, through heightened awareness of how the body and mind can function as an integrated whole.
"The Feldenkrais Method is the most sophisticated and effective method I have seen for the prevention and reversal of deterioration of function." – Margaret Mead, Ph.D., Anthropologist
Note: Participants will need to bring mats.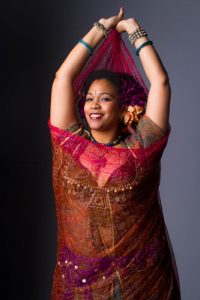 Bounce and Sway: An exploration of tribal fusion dance with Heidi Baila

Saturday, May 27, 11:30 am-12:30 pm
"Imagine this: there was a time in history, a long time ago, where the bounce and sway of a woman's hips was considered so beautiful that they set it to music and made a dance out of it…" – Carolena Nericcio-Bolhman (creator of American Tribal Style)
All are welcomed to explore the wonderful world of tribal fusion belly dance, a form rooted in the dance traditions of nomadic tribes. Stemming from the need to soothe the body and to pass on stories and traditions, these moves captivated audiences. We'll explore the moves of many tribes that are inspired by everyday movement. These are the foundation for tribal fusion dance.
Life in Full Bloom, with 
Stop in the Name of Love with 
the Dancing Flowers for Peace

Saturday, May 27, 1-2 pm
"Stop in the Name of Love" is a movement improvisation workshop exploring resistance and flow, inclusivity, and power within. All movers are welcome!
Flamenco Dance as Communication with Julie Baggenstoss

Saturday, May 27, 2:30-3:30 pm
Building from a rhythmic base, students engage in age-appropriate (including adult) games in which they interact through percussive footwork, rhythmic hand clapping, and cheers of "Olé!" The class is taught in a circle to facilitate the communal nature of Flamenco and its communicative functions. All movement and rhythm is taught at the beginner level.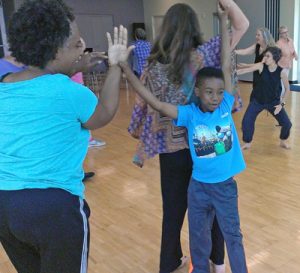 InterPlay: Movement, Storytelling, Voice, and Community Connection
Sunday, May 28, 1-2 pm
InterPlay is an art form that anyone can do. The simple forms of InterPlay invite participants of all ages and abilities to free the stories, movement and voice within. InterPlay is taught in an incremental and affirming environment where the unique creative expression of each individual is honored and celebrated. InterPlay invites creativity and connection (with oneself and others) in a joyful and accessible atmosphere. Come play!
interplay.org