Friday, May 24 | 5-10 pm | all around Decatur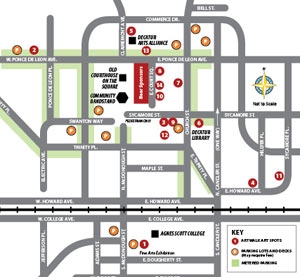 Free and open to the public
Decatur's largest one-night art experience returns! Stroll around town to see exhibits at various shops and galleries and enjoy complimentary snacks and drinks. Beer will be on sale at East Court Square. Download the 2018 ArtWalk Map here.
ArtSpot 2018 Locations
1. Fine Arts Exhibition at Agnes Scott College
Dalton Gallery, Dana Fine Arts Building
141 E. College Ave.
404-471-6000
agnesscott.edu
Juried multimedia exhibition features a diversity of artistic viewpoints. The exhibition runs May 22-June 10.
Agnes Scott College is a private liberal arts college in downtown Decatur, Georgia.
---
2. Aimee Jewelry and Fine Art Gallery
335-B W. Ponce de Leon Ave.
404-371-0099
aimeejewelryandgallery.com
Galina Herndon, an artist from Moscow, Russia's exclusive solo exhibition in the gallery. Her paintings of some fauvism is powerful in its emotions and expressiveness, profiles of women, cityscrapes and scapes, which are all part of the hemity and attraction of Herndon's art.
Aimee Jewelry and Gallery specializes in unique design and repair. We carry jewelry from all over the nation and around the globe. We also have an in-house resource for jewelry designer and redesign. Our fine art is eclectic in style and media, running the gamut from realism to abstraction.
---
3. Core Dance
133 Sycamore St.
404-373-4154
coredance.org
Experience EnCore Dance for Film, a social gathering for arts and celebration of dance made for the silver screen. EnCore brings together a collection of original dance works for the screen that are performed, choreographed, and directed by local artists, as well as, their regional, national, and international peers. Join us during the Friday evening ArtWalk.
Core Dance, a contemporary dance organization, creates, performs, and produces compelling original dance that ignites the creative spirit and actively encourages participation and conversation by and with the community. Creating a context for dance that is relevant in both our home cities and around the globe, Core Dance uses dance to illuminate, educate and question. In essence, Core Dance is an artistic incubator and convener.
---
4. Different Trains Gallery 1
432 E. Howard Ave., No. 24
404-939-2787
DifferentTrainsGallery.com
M.C. Escher +, an exhibition of original prints by the legendary Dutch graphic artist, plus prints and 2D and 3D works by contemporary math artists. This show continues through June 9.
Different Trains Gallery offers original and affordable art by local and internationally recognized artists, and personalized art and interior design consulting services.
---
5. Different Trains Gallery 2
125 Clairemont Ave., No. 100
404-939-2787
DifferentTrainsGallery.com
Decaturscapes is a collection of works by local artists paying homage to Decatur, Georgia.
DTG2 at Cornerstone Bank is a satellite gallery of Different Trains and the only functioning art gallery in a bank in the US (that we're aware of).
---
6. Georgia Center for the
Book – Decatur Library
215 Sycamore St.
404-370-3070 x2285
georgiacenterforthebook.org
The Southern Breeze Chapter of the Society of Children's Book Writers and Illustrators' annual gallery show at the Decatur Library focuses on children's book illustration and the power of visual art and the written word in storytelling. Featured illustrators include Gregory Christie, James Dean, and E.B. Lewis.
Join us for the opening reception during ArtWalk from 7-9 pm. The show runs through July 1 in the main lobby of the Decatur Library.
The Georgia Center for the Book is chartered with a mission to support libraries, promote literacy and literary arts, and preserve the literary heritage of Georgia.
---
7. HomeGrown Decatur
412 Church St.
404-373-1147
homegrowndecatur.com
Monica Martino of Lemon Zesty chronicles the absurdity and weirdness of everyday life in all its glorious and perplexing messiness. Her drawings and paintings are humorous, provocative, thought provoking and political. Previously a television producer, Monica now devotes herself to her art full time and brings a fresh and snarky perspective to her depictions of modern life.
A retail artist market showcasing 125+ regional artists; from paintings, pottery and woodworking to jewelry, soaps and artisan foods, HomeGrown is where local art lives.
---
8. Little Shop of Stories
133 E Court Square # A
404-373-6300
littleshopofstories.com
Stephanie Van Parys creates books from scratch. She cuts the paper, sews the pages, and binds them into a book. Her specialty is her reading journal, printed on a 1950's Vandercook letterpress. The books are popular with readers who like to keep track of what they've read. Stephanie's books feature bright and colorful covers.
Little Shop of Story is a big independent children's bookstore featuring multiple reading areas & regular kids' story hours.
---
9. Sq/Ft
149 Sycamore St.
404-373-6607
sqft-decatur.com.com
Stop by to visit with Kinsey Coffey of Moon Goddess bath products. She's local and makes incredible scrubs and bath bombs using relaxing essential oils, organic sugar, coconut oil and various herbs and teas. All natural and absolutely divine.
Clothing, home and gift boutique. Something for everyone.
---
10. Squash Blossom
113 E. Court Square
404-373-1864
squashblossomboutique.com
Martha Douglas was born in Homerville, Ga., and has spent most of her life in the rural South. She currently lives in Decatur with her husband, Jed, and two boys, Jude and Frank. She is a graduate of the Lamar Dodd School of Art at the University of Georgia. She primarily works with watercolor, ink, graphite, pastel, and acrylic and focuses on portraiture, nature, and still life. Her work is heavily influenced by her roots in the South.
Squash Blossom is an eclectic boutique full of beautiful things for beautiful women. Stop in for earthy, whimsical clothing, shoes, accessories, and more.
---
11. Sycamore Place Gallery
120 Sycamore Pl.
404-660-9967
decaturartclasses.com
Drop in from 7-10 p.m. to celebrate the art and music of the late Whit Connah, former front man for Atlanta band Hair of the Dog. The band and special guests will pay homage to Connah's unique brand of Cajun, blues and roots music in a live tribute performance. Beverages and light fare will be served. The evening kicks off a two week exhibit, Legacy of a Legend, featuring works by Connah and 13 resident artists.
Sycamore Place Gallery offers art studio and art classes for children and adults year-round. The gallery hosts local, national, and international shows throughout the year.
---
12. Trinity Mercantile & Design
116 E Trinity Pl.
404-378-0197
trinity-decatur.com
Trinity Mercantile & Design showcases the work of two painters – Gabriella Ibarra and Parker Owen, along with storyteller C. Dawn Davis. Ibarra paints in acrylic but also loves collage and linoleum printing. This colorful floral series on display is inspired by song lyrics and the strength we gain from human interconnectedness. She lives in Decatur with her husband, two kids, and dog Tommy.
Parker Owen is a self taught artist who has been painting for over 30 years. This Atlanta native has been developing his diverse bold and unique style into a compelling and sometimes amusing figurative genre. A part-time artist and full-time librarian, Parker is a Trinity favorite.
C. Dawn Davis is a born storyteller, and says that the rich Southern tradition of storytelling, particularly Southern Gothic storytelling, is in her blood. She combines elements of surrealism, fantasy art, Victorian photography, symbolist painting, and Hollywood baroque to tell stories uniquely her own.
Trinity Mercantile & Design offers upholstery, home furnishings, lighting, custom window treatments, rugs, beds, linens, and one-of-a-kind accessories from local artists. Full design services available.
---
13. Wild Oats & Billy Goats
112 E. Ponce de Leon Ave.
404-378-4088
wildoatsandbillygoats.com
Wild Oats and Billy Goats will feature Southeastern artist Lucy Thomas for a limited-time exhibition of her artwork and an art demonstration. Come meet Lucy and learn about her beautiful and colorful art, her joyful inspiration, and the journey that led her to painting.
Wild Oats and Billy Goats is a whimsical art gallery and artisan boutique that offers art and handcrafted goods from local and regional artists and makers.
---
14. Worthmore Jewelers
117 E. Court Square
404-370-3979
worthmorejewelers.com
Group show of local artists featuring The Art of Abandonment by Walter Arnold, who will be on-hand to share firsthand his inspiration for The Art Of Abandonment series.
Fine art, imaginative jewelry and watches (plus repairs) in a shop and gallery with an avant-garde vibe.