Saturday, May 26, 10 am-6 pm | Sunday, May 27, 11 am-5 pm
Downtown Decatur
The Artists Market features more than 150 artists selected through a competitive jury process. The annual market is known for its high quality of artwork and attracts artists from all over the Southeast and beyond.
Welcome back your favorite artists and visit the many new artists who have joined us this year. The works of accomplished area artist guilds are featured as well.
2018 Artists and Guilds
Booth numbers are listed next 
to each artist and guild. Download the 2018 artists market map here or click on the image below.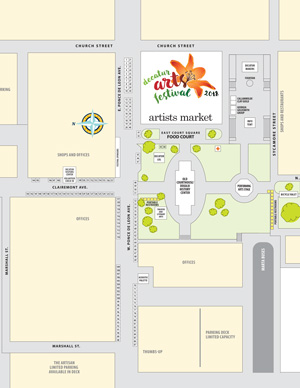 2D Mixed Media
Sally Austin – 26
Sean Barry – 120
Felix Erroa – 154
Melanie Blackerby – 134
Elissa Brown – 117
Robin Anne Cooper – 105
John Ha – 29-30
Marirosa Hofmann – 55
Leif Johansen – 126
Gerardo Leccese – 83
Yvonne Miller – 70
Michelle Prahler – 131
Deeann Rieves – 122
Kendra Runnels – 92
Sharon Spillar – 125
Jason Thomas – 38
Gyl Turner – 73
3D Mixed Media
Chris Cumbie – 93
Suzanne Ens – 5
Taguhi Erzrumyan – 119
Alice Jarrett – 153
David Lasker – 9
Wayne Gao & Michelle Chang – 21
Mary Miller – 112
Melissa Oesch – 36
Frank Saggus – 115
Tomas Savrda – 104
Marisol Spoon – 80
Bob Stern – 138
Chuck Young – 20
Ceramics
Karen Fincannon – 8
Michael Hamlin – 16
Tom Homann – 132
Gregory Johnson – 141-142
C.C Lee – 71
Brenna McBroom – 39
Michael Meyer – 4
Kyle Osvog – 108
Barry Rhodes – 91
Masayuki Sasaki – 53
Knox Steinbrecher – 150
Lisa Tantillo – 123
Jenifer Thoem – 89
Glenn Woods – 33
Callanwolde Clay Guild – plaza
Digital
Jason Brueck – 75
Geoffrey Harris – 18
Lorri Honeycutt – 107
Kenneth Kudulis – 56
Larry & Sherry Paulsen – 25
Drawing
Ellie Ali – 111
Marjorie Bowers – 23
Andrew Swartz – 151
Richard Wilson – 144
Fiber
Mary McFarland – 15
Paula McKinney – 100
Libby Mitchell – 1
Traci Paden – 40
Michael Smith – 136
Glass
Dennise Bamberry – 106
Nancy Cann – 37
Jeff & Jaky Felix – 133
JoAnn Jancik – 27
Paula Marksbury – 52
Nathan Nardi – 49-50
Susan Staley – 124
Jewelry
Penny Atkinson-Potter – 41
Marc Aune – 145
Caleb Barnaby – 116
Jackie Cohen – 135
Stacy Deline – 98
Wendy and Joe Edwards – 35
Ann Finley – 45
Julie Furgat – 110
Leigh Griffin – 118
Metal Arts Guild of Georgia – plaza
Phillip Hall – 54
Lynn Hardesty – 28
Bonnie Hedden – 113
Hanan Ingel – 63
Cameron Lester – 127
Andrea & Rolf Ludden – 103
Roberta Manly – 149
Dawn Middleton – 51
Christian Nevin – 85
Jim Norton – 6
Willard Olney – 19
Gary Sanchez – 94
Jill Sharp – 59
Fred Tate – 24
Delias Thompson – 77
Barbara and Rick Umbel – 86
Wendy Waugaman – 69
Leather
Alejandra Avila – 82
Larry Clarke – 87
Rudy Tell – 44
Metal
Jake Asuit – 79
Richard Jacobus – 17
Mike Sluder – 96
Billy Staubach – 43
David Vigo – 130
Painting: Oil/Acrylic
Pavlina Alea – 61
Carol Carmichael – 143
Sidney Carter – 95
Sergey Cherep – 148
Deona Fish – 58
Kimberly Fox – 99
Dirk Hays – 65
Bailey Jack – 76
Mark Johnson – 109
Wade Lincoln – 128
Shijun Munns – 97
Maria Musngi – 72
Marisa Ray – 114
Lea Ann Slotkin – 101
John Sperry – 42
Spoon – 157
Kristin Thorsen – 67-68
Lindsey Tull – 10
LiWang – 90
Richard Webb – 32
Dawn Kinney Martin – 47
Liz Nichtberger – 81
Painting: Watercolor
MaryAnn Cabot – 22
Sean Huntington – 129
Sydney Privitera – 74
Photography
Walter Arnold – 88
C.W. Banfield – 139-140
Michael Bryant – 152
Karin Connolly – 146
Garry Seidel – 7
Jason Stoddart – 121
LiTang – 84
Mark Thomas – 46
Greg Turco – 155-156
Kathy Wolfe – 48
Printmaking
Nicola Barsaleau – 147
Mark Mcdevitt – 66
Kreg Yingst – 57
Sculpture
Alfredo Alea – 60
Justine Ferreri – 64
Elliott Hubbard – 34
Jennifer Ivory – 12
Barbara Odil – 102
Wood
Jane Burke – 137
John Deveer – 13-14
Mark Ellis – 78
Paul Miller – 2-3
Greg Thomas-Moore – 62
Committee: Ann Finley, Mary Flad, Dawn Kinney Martin, Julia Snell, Diana Estrella, Alex Bell, Sensei Larsen-Scott, Hannah Amado, Marty Wood
Sponsors: City of Decatur, Decatur Downtown Development Authority, Decatur Arts Alliance, Decatur Tourism Bureau, Lampe-Farley Communications