Saturday, May 25, 10 am-6 pm | Sunday, May 26, 11 am-5 pm
Downtown Decatur
The Artists Market features more than 150 artists selected through a competitive jury process. The annual market is known for its high quality of artwork and attracts artists from all over the Southeast and beyond.
Welcome back your favorite artists and visit the many new artists who will join us this year. The works of accomplished area artist guilds are featured as well. Don't miss the collections from Metal Arts Guild of Georgia and Callanwolde Fine Arts Center.
2019 Artists and Guilds
Booth numbers are listed next 
to each artist and guild. See the 2019 artists market map below.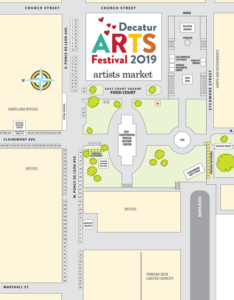 2D Mixed Media
Andy Adams – 119
David Anderson – 63
Holly Apperson – 128
Sally Austin – 6
Stephen Baldauf – 73
Sean Barry – 94
Amanda Bennett – 48
Melanie Blackerby – 134
Sarah Collier – 96
Daphne Covington – 90
Penny Dobson – 112
Julie Freniere-Gibson – 50
Kelly Gardner – 51
John Ha – 109-110
Marirosa Hofmann – 57
Margaret Luttrell – 9
Mark Mohrenweiser – 80
Demone Phelps – 88
Deeann Rieves – 124
Kendra Runnels – 149
Kathleen Taylor – 116
Jason Thomas – 38
Henry Warner – 41
3D Mixed Media
Chris Cumbie – 122
Su Griggs Allen – 53
Jennifer Ivory – 11
Linda Jackson – 137
Jeffrey Kennedy – 105
David Lasker – 8
Mary Miller – 113
Melissa Oesch – 40
Frank Saggus – 115
Ceramics
Jim Bridgeman – 64
Callanwolde Clay Guild – plaza
Luis Enrique Gutierrez – 75
Tom Homann – 72
Elliott Hubbard – 34
Gregory Johnson – 107-108
Laura Keyes – 142
Brenna McBroom – 131
Michael Meyer – 4
Kyle Osvog – 92
Yesha Panchal – 52
Lisa Tantillo – 121
Digital
Kate Harrold – 26
Jesse Kunerth – 129
Jamie Manangan – 65
Andrew Mosedale – 10
Larry & Sherry Paulsen – 5
Drawing
William Armstrong – 35
Marjorie Bowers – 22
Paul Flack – 148
Fiber
Clay Bush – 150
Evija Fairo – 18
Gigi Fasano – 101
Danielle Harmadi – 7
George Jones Jr. – 81
Peace of Thread – plaza
Glass
Larry Hamilton – 39
Charlene Heilman – 151
JoAnn Jancik – 28
Paula Marksbury – 58
Nathan Nardi – 55-56
Andrea Victorica – 117
Jewelry
Marc Aune – 146
Alexis Barbeau – 139
Caleb Barnaby – 104
Courtney DeYoung – 99
Wendy and Joe Edwards – 42
Ann Finley – 47
Leigh Griffin – 120
Lynn Hardesty – 37
Bonnie Hedden – 114
Kristi Hyde – 157
Emma Knapp – 68
Hannah Long – 32
Roberta Manly – 77
Metal Arts Guild of Georgia – plaza
Christian Nevin – 84
Annette Paskiewicz – 153
Melanie Schlossberg – 130
Cesar Sertzen – 135
Karin Slaton – 54
Susan Wachler – 106
Wendy Zoschke – 118
Leather
Alejandra Avila – 82
Brian Joyner – 141
James Perry – 43
Metal
Jake Asuit – 79
Richard Jacobus – 17
Jonathan Milton – 27
Mike Sluder – 85
William Staubach – 45
David Vigo – 91
Painting: Oil/Acrylic
Thomas Andrew – 155-156
Felix Berroa – 154
Matt Bolton – 103
Jerry Brem – 61-62
Sergey Cherep – 76
Dave DeLaCruz – 127
Chris Hartsfield – 31
Dirk Hays – 152
Galina Herndon – 138
Victoria Jackson – 69
Mark Johnson – 111
Aziz Kadmiri – 33
Sooro Kim – 71
Dawn Kinney Martin – 49
Elizabeth Lang – 136
Michelle Mardis – 144
Marla McCormick – 93
Paul Nikitchenko – 100
Sarah Pollock – 97
Craig and Deona Smith – 59
SPOON – 123
Kristin Thorsen – 67
Lindsey Tull – 30
David Yuan – 98
Painting: Watercolor
Jennifer Ardolino – 78
Virginia Fergus – 25
Kuansoi Kou – 133
Sydney Privitera – 102
Bryan Yung – 15
Photography
Walter Arnold – 89
Michael Bryant – 147
Tom Clements – 125-126
Karin Connolly – 145
Greg Davis – 36
David Dobbs – 132
Fred Draper – 143
George Rhodes – 14
Craig Roderick – 70
Greg Turco – 158
Kathy Wolfe – 44
Printmaking
Kent Ambler – 16
Chris Neuenschwander – 83
Kreg Yingst – 60
Sculpture
Justine Ferreri – 3
Chuck Young – 21
Wood
John Deveer – 12-13
Victor Edwards – 86-87
Joel Lockridge – 29
Scott Mattison – 140
Richard McCollum – 19-20
Josh Miley – 74
Paul Miller – 1-2
Jeffrey Waller – 66
Jon Welborn – 95
Committee: May Flad, Ann Finley, Dawn Kinney Martin, Julia Snell, Diana Estrella, Marty Wood, Anna Carnes, Kathy Wolfe
Sponsors: City of Decatur, Decatur Downtown Development Authority, Decatur Arts Alliance, Decatur Tourism Bureau, Lampe-Farley Communications